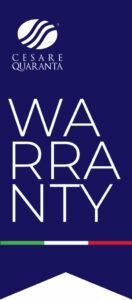 CESARE QUARANTA WARRANTY
Always on customer's side in order to guarantee a prompt intervention and a nonstop working technology!
Spare parts are always available even after 10 years!
Cesare Quaranta equipment is intended for professional users and it is covered by a warranty of 
12 months;
 this warranty covers factory and conformity defects of the product in contrast with the technical specifications written on the user manuals. We are always available to provide information on the correct use of devices and for any request, assistance and/or replacement of defective parts. For assistance please send a written request to
info@cesarequaranta.it
or call to
+39 011 9472132
 during office hours. We are committed for providing exclusive 
direct assistance
, both by telephone and through the most commonly used video tools: Skype video conference, Whatsapp video calls and conference calls. For all technical interventions that cannot be carried out on site, we ask for the
 shipping of the equipment in our specialized laboratories.