A REVOLUTION IN PHOTO – REJUVENATION.
THE SYNERGY OF TWO MASKS: LED + SERUM WITH NUCLEOTIDES.
The skin of your hands ages more quickly than the skin of your face, constantly exposed to multiple external aggressions from climatic conditions to the detergents and cleanser used, it is subject to obvious changes.
All these external attacks cause a decrease in the natural hydrolipidic film, the skin of the hands becomes thinner, loses tone and elasticity, making veins and tendons annoyingly visible; often on the surface of the back of the hand some dark spots also appear.
The solution to the imperfections of the hands is a protocol that perfectly meets the needs of both male and female audiences to restore vitality and beauty to your hands.
PHOTO BIO-STIMULATION FOR HANDS.
Based on recent studies in the field of light application in aesthetic skin recovering techniques, Cesare Quaranta has developed an innovative professional intensive treatment protocol for contrasting signs of aging hands with the use of a Led mask.
Using an anti-aging LED mask with red LED and its 25 light sources, with a wavelength of 645 nm, studied to stimulate the reaction of photoreceptors. Creating biochemical reactions on the tissues and effectively reducing the signs of aging with a firming and lifting effect on the skin.
Your Hands reveal a lot about you.
Rejuvenate the skin of the hands, without surgery or injections with a new solution thanks to the combination between LED technology and the action of the anti-age mask with nucleotides.

A SCIENTIFIC APPROACH TO THE IMPERFECTION, REGENERATION STARTING FROM DNA.
The core of Activa40 serum are nucleotides of natural origin. They are able to moisturise, protect and stimulate the skin renewal. Nucleotides are natural ingredients wich are part of the nucleic acid structure (DNA and RNA). They participate to molecular processes determining the genetic information coding and transfer to the cells. This characteristics make them extremely useful during the cell regeneration because they accellerate the natural repair process of our skin. The treatment is based on a lipo peptide able to penetrate deeply into the skin favoring the production of collagen by fibroblasts, while the presence of chitosan with high hygroscopic power, ensures deep and lasting hydration to the skin, as well as protecting it forming a natural surface film, making the skin of the hands compact and restoring the hydro-lipid curve.
All ingredients are strictly selected, the serum is formulated to be very well tolerated, free of preservatives and perfume
ANTI-AGE EFFECTS WITH THE RED LED MASK
Increased cellular turn-over at epidermic level;
Increased collagen production by fibroblasts;
Improvement of skin texture;
Reduction of the fine lines;
Recompacting of tissues.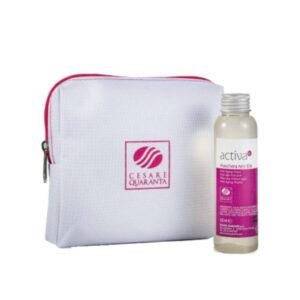 LENITIVE EFFECTS WITH THE BLUE LED MASK
Reduces inflammation and skin sensitivity;
Promotes epidermal cell regeneration;
Regenerates, hydrates and brightens the skin;
Increases skin resistance to external agents;
Diminishes the acne inflammation.